---
BIG FINISH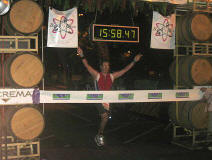 Though I couldn't really fathom the notion that it was actually over, I had never been so relieved in my life! This was the moment I had been picturing every step of the way…except that I had to use my imagination to fill in the mass jubilation part. Pretty much everyone had split for the night, so instead of a cheering throng, there was just a guy with a timer. He said "good job" as I passed him, but with an intonation that really meant "thanks for making me stand here in the dark waiting for you to finish."
I had seen clips of the Hawaii Ironman finish scene, where everyone parties on Ali'i Drive until the last finisher is done. Maybe it's ludicrous to have the same expectation of Guerneville, CA, where curious cows are the only onlookers, but that was the only image I had ever pictured in terms of a finish line scene. I was in too much pain to think of the anticlimactic finish for too long, though, and nightlife was the last thing I was looking for. Within a minute they had already unplugged the digital clock and pulled the banner down behind me. One of the last remaining race officials pulled out the master list. His bright red pencil hovered over my name like a destroying angel…then passed me by to seal the fate of the stragglers in the bus with their final judgment: a big, fat "DNF."
I stumbled to a chair in the recovery tent completely sick, exhausted, and numb in both body and brain. I was still sitting there in a daze a half hour later when they started taking the tents down. I decided I'd better get up, but I couldn't move; I was absolutely paralyzed. I struck up a conversation with my limbs, telling them to drag my butt out of the chair; I got zero cooperation. Like the poor creature without arms, legs, or any senses in Metallica's One, I could literally feel my soul trapped inside a non-functioning shell of a body. Johnny got his gun, alright…and I was right there with him in spirit; they'd just have to dismantle the tent around me. The event manager passed by and politely prodded me in the shoulder, checking for signs of life.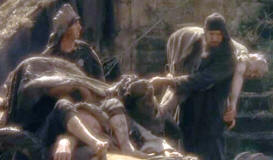 "I'm not dead yet," I said; but the joke was lost on him. I was afraid he might whack me over the head with a tent post and chuck me into the back of his rental truck. I obviously wasn't going for a walk anytime soon – at least not under my own power – so my only way out would have to be over his shoulder.
It wasn't until a few years later that I realized how well the rest of Ozzy's Ironman lyrics fit the situation:
Can he see or is he blind?
Or if he moves will he fall?
Has he thoughts within his head?
We'll just pass him there.
That may as well have been the cleanup crew talking as they folded up the tent around me, shaking their heads. Finally when they needed my chair I mustered the strength to push myself up into a standing position, then stumbled forward to the shuttle stop to head back to the starting line. I don't know how long I stood there staring off into the dark before I realized that the bus had stopped running. I was already chilled and nauseated – which was now intensified by the frightful thought of having to hoof it for two long miles to get to the car; luckily I was able to talk some of the last remaining volunteers into letting me hitch a ride. I chatted with them along the way and thanked them for helping to successfully pull off such a complicated event. At least that's what I meant to say; by the time they dropped me off at the parking lot I was totally delirious and had no idea what was actually coming out of my mouth.
I limped to the car and saw the Vaseline and little round Band-Aids that I was supposed to have brought with me on the road in my supply kit…I wouldn't feel the true effects of that oversight until the next morning. I crawled into the driver's seat, stinking up Michael's new Bimmer. Everything went hazy as I sat there. I woke up at the wheel with a shudder, thinking I had fallen asleep driving. I had never actually left, but looking at my watch, I had apparently managed to get a few hours rest; with this brief rejuvenation I was finally ready to head out on the road for real.
I had trouble working the pedals, even with my good leg. Luckily I didn't see any cops on the way back; if I had been pulled over, I'd have ended up with a DUI for sure, since I'd never have been able to walk the line, let alone even walk, period. The next day's light was beginning to appear on the horizon by the time I pulled into Oakland a full 24 hours after my pre-pain departure. I crashed on the couch, one big heap of stink.
I felt even worse a few hours later when Michael woke me up, shaking my shoulder. So many muscles ached that I felt like one big, interconnected, sore muscle. He was on his way to a dawn church service and asked if I was coming along. "Only if they have a drive-in," I countered. But he was my ride to the airport, so I had no choice. I figured I could rest for a few more minutes if I skipped a shower, but a sliver of empathy arose on behalf of my fellow parishioners and air passengers. I hosed off and threw my gear into a duffel bag, which had to ride in the trunk on account of the smell.
After a sermon in which the mount reminded me of Death Hill, we made our way to the airport. Though it was small enough to carry on board, I checked my bag in so that airport security wouldn't ground the flight and bring in the HazMat crew to decontaminate the cabin. Maneuvering into my seat on the plane was a challenge, but I fell asleep within a few seconds of sitting down. Once I landed, I came to an enlightened appreciation of the Phoenix Airport's moving walkways. My girlfriend picked me up, and apparently I did enough complaining on the five-minute drive to my apartment to earn the title Whineman. By the way, that girl is now my wife and I haven't been able to drop the nickname yet. I flopped myself down on the couch but felt no relief – gravity itself had become painful. I drifted off into oblivion, and the rest of the day was a blur.
When I woke up to go back to work on Monday morning, I found I couldn't put any weight on my bad knee. I grabbed a baseball bat to use as a crutch, drove to work, and hobbled up the stairs into my office. I tried to avoid my coworkers on the way in, since I thought they might notice I was wearing the little round Band-Aids under my shirt now. Besides, my bow-legged walk was only made possible with gobs of Vaseline, and I really didn't want to answer any questions about that. Nobility? Dignity? I don't think so. I flopped into my office chair and marveled at its surface area that allowed my pounds to spread out over so many more square inches than that blasted bike seat. Then I just sat there wondering why we still seek out torture when we have the choice to live a life of comfort. Dull began to take on a positive connotation, and I finally realized why I should appreciate my desk job.
My father once told me – while I was laid up with a broken shoulder at age twelve – that I should focus on the other arm and be thankful it still worked. While this perspective beat his lame jokes (e.g., "you won't find this humorous, but you've broken your humerus!"), it still hadn't managed to help me take my mind off the pain at the moment. With my added years of maturity since that time, I thought maybe I'd give his words of wisdom another chance. I pictured the muscle and ligament dude from the anatomy books and tried to focus on each part of my body, searching in vain for something to be thankful for; it felt like every single inch of every single muscle ached.
My wandering focus got stuck, though, when I realized that pain can have a shape: the pain in my rear was actually imprinted in the shape of a bike seat. Just when I thought my father's words didn't apply to me, though, I did manage to find something to be thankful for…very thankful, in fact. The brand new phenomenon of Internet videos allowed me to quickly call up Ms. Moss' famous finish; this time around I noticed something new that made me cringe a bit. I clicked on another video of an interview she gave about the race in which she confirmed my suspicion with some particularly detailed disclosures about having soiled herself at the finish line. I became very grateful that, despite my stumbling finish, I had managed to retain at least one last element of muscular control at the finish line. And as an added bonus, my finish wasn't broadcast on national TV and made available to a world wide web of gawkers! And what do you know? In the process of focusing my thoughts right between my aching glutei maximi, I actually managed to identify a muscle that didn't hurt! I decided to look on the bright side of life and, blaspheme or not, thanked the Lord for my functional and quite painless sphincter.
Well, Ms. Moss may have crawled across the finish line, but my body felt like I had crawled the whole 140.6-mile stretch. And gauging from my time, I may as well have. A few days after the race – just for kicks – I timed my little niece as she crawled across the room; sure enough, she was going faster than my marathon pace. When the race results came in the mail, they confirmed that I had finished dead last – behind every man, woman, and child who finished. The Ironman executives have actually trademarked the phrase, "Brag for the rest of your life." Well, I sure didn't feel like I had anything to brag about. At the time, the pessimist in me was completely humiliated at having finished last. But following my name were some numbers. Those numbers indicated my time. And that time – while shamefully prolonged – sure beat the dreaded, three-letter code that could very well have followed my name instead. My bucket list certainly couldn't differentiate between a fast time and a slow time; the goal was just to finish, so the emphasis in my mind gradually went from "finished last" to "finished last" to "FINISHED... (last)". As soon as I got up the strength to lift things again, I dug through my old boxes, found my cursed bucket list, and crossed that puppy off of it.
I AM MORONMAN!
A moron, by the way, isn't half bad if you go by the dictionary definition:

mo*ron [mohr-on] noun. Stupid or lacking in good judgment. On former psychological scales, considered slightly mentally superior to imbeciles and even more superior to idiots.

So a moron actually sits at the top of the dogpile! Maybe it was time to just own this thing and be proud of my new title! The hole-in-the-head trophies given to the finishers the first few years in Hawaii certainly bear some not-so-subtle symbolism. Colonel John Collin, who first came up with the idea of an Ironman competition, hoped the race would always be open to the "common man" because of its origins. Well, here was one more for the common man, proving that a little stupidity and a lot of ego can go a long way.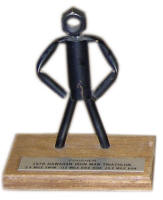 I take a little comfort in the accounts of the early years of the Ironman, before they implemented cutoff times. Those first few years you hear stories about people stopping in diners for breakfast or being out on the course while the morning paper gets delivered (with the other finishers' results already in print!) The record actually belongs to a guy in his seventies who took 26 hours to finish. Looking at the results of the inaugural race, it turns out Colonel Collin himself would have been scooped up by the straggler bus. That's right; I would have actually beaten somebody in 1978!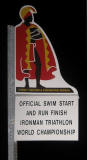 As for Julie Moss, she came back to Kona in 2003 to try it again on the 25th anniversary of the world championship, but she never was able to live down the agonizing finish in '82 that made her famous. It only seems fitting to end with another Julie Moss quote that she recently gave in a nostalgic interview:
"I tell people that their first Ironman should be their best one, because finishing should be their only expectation."
Well as for me, I believe the first Ironman should be not just the best one, but the last one, too.
EPILOGUE
It's been quite a few years now since the "slappa in Napa." My wife claims there's fifty pounds of me she isn't married to, and my original list has become more of an amusing reminder of days gone by than a bona fide bucket list. With five kids at home, personal goals seem selfishly trivial, and just getting them to bed at night is enough of a challenge for me; in fact, if they made a marathon of dad duties, I'll bet I could hold my own against the triath-élites.
We recently ditched all the kids for an anniversary trip to Hawaii. One night as we strolled along the beach on a moonlight walk, my wife turned to me and said, "Well, honey, it's a sign – we've crossed the finish line." I thought she was getting all figurative and sentimental on me, but then she pointed up. And there, quite literally, was a sign: "Official Finish – Ironman Triathlon."
From that vantage point, a quarter century flashed in front of my eyes. I could see the ABC TV camera right in front of me, with Julie Moss on her knees on one end and a naďve little twelve-year old on the other end with a big dream and absolutely no idea of the other adventures that lay ahead on life's path. It certainly wasn't how I had pictured it, but I had reached my goal nonetheless.
Well call me crazy, but the next time I looked in the mirror, that list started taunting me again; I realized it was time to dive into a greater challenge. I needed a preemptive strike to prevent the onset of a mid-life crisis, so I dug out my list once again and went through the remaining items one by one. I figured I'd go easy on myself at first, so I eliminated things that might involve physical pain, bankruptcy, or risk of premature death; unfortunately that nixed most of my list, but in the end I did find the next item to tackle: #24. Learn Spanish.
VAMANOS!
Krey now lives in Australia with his wife and five children. He works a desk job as a civil engineer and occasionally takes his kids on a bike ride around the neighborhood, boring them to no end with his Ironman stories and practicing his Spanish: "ˇSoy hombre con retrasado mental!" Contact the author at hampton@krey.org.
| | | |
| --- | --- | --- |
| | This account was originally written when Kara Douglass Thom was collecting stories from other "First Encounters with the Ultimate Endurance Event" for her book Becoming an Ironman. Well, being Moronman, I didn't finish my contribution in time, so I've posted it online instead. | Related books: |